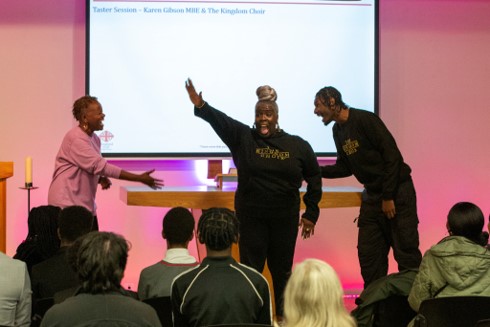 Twyford CofE High School is working closely with Kingdom Choir Foundation and last week, we held the official launch event at the school.
Laura Swadkin, Trust Director of Music says "We are delighted to have been invited to take part in the inaugural project led by the Kingdom Choir Foundation, who work to transform lives through the power of music, bringing a message of positivity and renewal to a wider audience, and impacting lives, and empowering communities".
Over the last six months, the Kingdom Gospel Choir have already had a huge impact on gospel singing at Twyford, with two members of KGC running workshops with the Twyford Gospel Choir last summer, and Karen Gibson MBE (the director of the choir) leading the singing at our Trust-wide communion on the first day of this academic year. The Kingdom Choir have become a household name as they shot to fame in 2018 after singing at the wedding of Prince Harry and Meghan Markle, and have since sung at the Queen's Jubilee and King Charles' Coronation celebration concerts. They frequently appear on Songs of Praise and Britain's Got Talent.
Karen Gibson MBE says: "Without confidence, we cannot achieve positive change, neither individually nor communally. Through the work of the foundation, KGC help people explore and realise their potential by expressing themselves in new and experimental ways", and the project will help our students develop singing and performance skills alongside building their confidence, oracy, listening and teamwork.
From mid-November, 30 specially selected students will be working every Friday afternoon with the Kingdom Choir, with the culmination of the project being a special performance next year. Watch this space for more information, photos and videos as the project progresses!
You can find out more information about The Kingdom Choir Foundation and the Kingdom Gospel Choir.